Rob Pike, Bell Labs.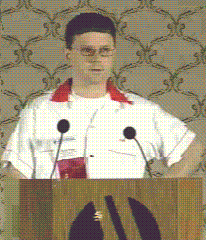 (Introducing keynote speaker Penn Jillette, of the magic and comedy duo Penn & Teller, at the Summer 1994 USENIX conference in Boston, MA.)
From the Biography section of a paper on his Acme user environment, presented at the Winter 1994 USENIX Conference in San Francisco:
Rob Pike, well known for his appearances on ``Late Night with David Letterman'', is also a Member of Technical Staff at AT&T Bell Laboratories in Murray Hill, New Jersey, where he has been since 1980, the same year he won the Olympic silver medal in Archery.  In 1981 he wrote the first bitmap window system for Unix systems, and has since written ten more.  With Bart Locanthi he designed the Blit terminal; with Brian Kernighan he wrote The Unix Programming Environment.  A shuttle mission nearly launched a gamma­ray telescope he designed.  He is a Canadian citizen and has never written a program that uses cursor addressing.
If that doesn't impress you, try his cheesecake (metric version).
---
References to Rob Pike in the C programming subtree:
Why Pascal is Not My Favorite Programming Language

Tom Duff on Duff's Device

Notes on Programming in C

How to Use the Plan 9 C Compiler
---

Quut

ANSI

History

Culture

Literature

Authors' Rights